Contract Hiring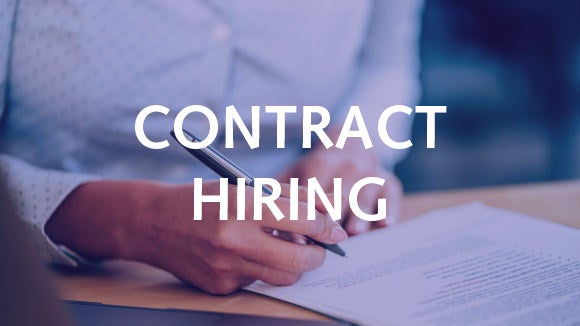 Contracting is fast becoming a popular staffing solution globally, and a growing number of organisations are partnering with us to meet their evolving business needs. Businesses know they can rely on us to find the right contractor who can add value from day one. We recruit contract and interim professionals across a range of disciplines and industries
Looking for your next hire? Submit your vacancy.
"Our MSP has a long running successfully partnership with Robert Walter's were they proactively support us with two clients. Robert Walter's has a fundamental and extensive understanding of the contracting market, they are outstanding in provide us with market insights and high caliber candidates, while keeping candidates experience central to their offering. All their consultants are engaging knowledgeable and responsive. We value Robert Walter's as one of our most important strategic Contractor recruitment partners."

Regional Programme Director
Financial Services company

"I have worked with Robert Walters since 2011 when I was relocated to the HK office to develop and grow the Asia team. Finding the right people is always a challenge but they have made it easy for us. They take time to really understand our business and always put forward those candidates who closely match our requirements. Their effort and service are highly appreciated and most importantly we get best fit to fill our vacancies aiding our own success."

Head of Operations,
Financial Services company
12 contracting recruitment specialists
Our team is dedicated to contract hiring 100% of their time, they are specialists in their fields of hiring with strong personal relationships and industry networks.
Dedicated payroll team
We have a professional and dedicated team to provide administrative service, making the recruitment process seanless and stress-free.
Mature database
We give you access to candidates from both our Hong Kong database and our international network of offices. Every candidate we supply is pre-screened and interviewed by our experienced consultants, giving you peace of mind.
24-hour turnaround
We already have the best candidates seeking the next role, that's why we can guarantee quick turnaround on your urgent assignments.
Professional advice and market insights
As a leading recruitment expert, we are well positioned to provide in-depth research and analysis on key recruitment trends and salary benchmarking to assist you in your hiring process.
Contractor care
From contractor survey to regular contrator events, we aim to build a strong community with our contractors, provide them useful advice and make sure their voices are heard.
Access to specialist skills and expertise
Hiring a contractor allows businesses to bring in someone with the exact skills and experience needed, without having to spend time and resources training an existing employee.
Expand to new areas
If your company wants to expand into a new market or launch a new product, hiring a contractor with experience in that area can help ensure success. This allows businesses to take advantage of new opportunities without having to commit to a full-time employee.
Improve business flexibility
Companies can hire contract staff on an as-needed basis, which allows them to quickly scale up or down depending on demand. This is particularly useful for businesses that experience seasonal fluctuations or unexpected changes in workload.
Develop existing team
Contractors not only can fill temporary gaps in a team or to provide support during busy periods, which allows existing employees to focus on their core responsibilities and develop their skills in other areas. Additionally, contract workers can provide new ideas and perspectives that can help improve team performance.
We provide a highly professional and efficient services tailored for you – from payroll, sourcing to organising contractors' contracts on behalf of our clients, making the recruitment process seamless and stress-free. Robert Walters have the best in class back-office and legal teams to ensure adherence to employment laws in Hong Kong. In addition to sourcing and managing contractors, candidates can sign contract directly with Robert Walters. Additional services including payroll management, visa arrangement, and comprehensive medical insurance cover can also be provided for contractors at cost of client.


● Temporary/Contract Recruitment Services

● Payroll Only Services

● Fixed Term Contracts