Challenge yourself in a challenging time - think out of the box in employee engagement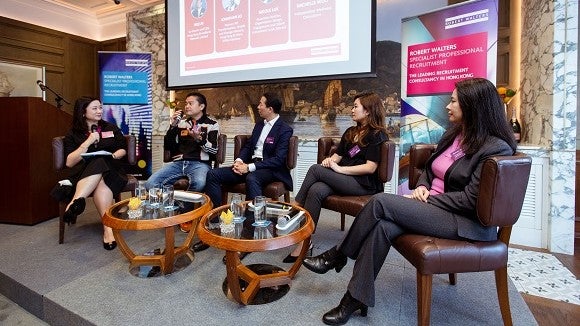 At the Robert Walters Annual HR Breakfast Seminar held in January 2020, we hosted a thought-provoking panel discussion with four esteemed speakers focusing on topics regarding employee engagement, including smart workplace, diversity & inclusion, well-being, employee recognition and HR transformation.
In a critical time of combating the coronavirus, the takeaways from the seminar have become even more relevant and insightful to all HR professionals and business leaders. Therefore we believe it is worthwhile for us to share the highlights in this article. We would like to thank the following guest speakers again for their generosity in sharing their valuable experience and insights with the HR community in the event:
Jonathan Lo, Partner, HR Transformation, People and Change Advisory, Hong Kong & China, KPMG Advisory (Hong Kong) Limited
Michelle Woo, Independent Wellness Consultant
Nicole Luk, Associate Director, Organisation Design, Engagement and Talent Assessment Lead, Mercer (Hong Kong) Limited
NiQ Lai, Co-Owner and CEO, Hong Kong Broadband Network Limited

Smart workplace – the smarter the merrier?
While people are encouraged to stay home to prevent the spread of the coronavirus, a "surprise check" has fallen upon businesses to test if their workplace is smart enough. Regardless of how prepared you are, many have been grounded at home with mixed feelings. According to Robert Walters' white paper "A Smart Workplace for the Workforce of the Future" for the Greater China region, we found that the majority of employees embrace the positivity of a smarter work place such as enhancing productivity, motivation and cross-departmental coordination. However, we also need to address the challenges posed by digital transformation in the work place, e.g. hindering work-life balance and having difficulties to learn new technologies. The panel agreed companies have to clearly communicate the benefits to the employees and facilitate the transition with adequate training and tools. There are also other initiatives to make the workplace smarter without the use of technology, such as flexitime, family friendly policy. Check out our advice here to learn more about remote working.
Well-being – as simple as compassion and common sense
When we think about employee well-being, we can think of all sorts of costly programmes such as EAP, in-house gym, massage sections, to name a few. However, at the end of the day, it's down to compassion and common sense which do not necessarily cost a penny. For example, companies could assign high-performance working moms to mentor pregnant employees, allow parents to bring their children to work in urgent situations, offer flexible work-from-home options, invite up-and-coming HR or well-being consultants for a free or discounted talk. Well-being is very broad and that's why we shouldn't limit ourselves to traditional means.However, we must not forget it is fundamental for management to walk the talk, to instill a culture where employees feel their well-being is respected that they have the liberty to take part in well-being programmes.
Diversity & inclusion – involve your employees in all possible touch points
Similar to employee well-being, it is crucial for business leaders to buy in the idea of diversity & inclusion, and more importantly, to walk the talk. Diversity & inclusion can provide a fair and safe environment for employees to work in and it should cover all 5 key touch points - recruitment, onboarding, development, progress & processing, off boarding – which make up the whole employee experience. With so much on the plate, big data is now leveraged to look at the internal market e.g. how people move within the organisation, how they are monitored and educated throughout. We should avoid "one-off" initiative but implement some best practice programmes for high-level employee involvement, where employees can share experience and gather resources in both a private and public setting, e.g. strategic partnership with any local/ regional vendors, events within the office (e.g. themed months). With that said, regional HR professionals should also be aware of government policies as different countries have different requirements - Do the right things in the context of local laws and cultures.
Employee recognition – let employees be company co-owner!
Hong Kong Broadband Network Limited ("HKBN") claims they are "obsessed with talents" and so they have come up with innovative fashion to recognise and reward talents. A "co-ownership" programme was launched in 2012, where supervisory and managerial executives can invest their own savings to acquire shares in HKBN or invest a portion of their salary towards a common KPI for the beyond-Hong Kong business to become co-owners of the company. As employees become co-owners or shareholders of the company, their goals are aligned with the company and become incentivised to drive continuous growth and achieve KPIs. HKBN is also an employer readily paying above market average to top talents, because they believe paying market average means attracting average talents, which in turn leads to inability to differentiate the business. Such an untraditional incentive approach has had its positive impact to the company, evidenced by the total capital appreciation via stock price change and cumulative dividends in the long run.
HR transformation – be pathfinder to stay ahead of the game
To stay ahead of the game, pathfinders are actively seeking to transform HR through disruptive technology to enhance speed to market and digitalise the business. They seek growth with data analytics enablement and AI, and believe it will create jobs rather than eliminate them. Pathfinders are also the ones who dedicate to influence the leadership as well as the organisational culture, and see employee experience as a key priority for the entire organisation, which will in turn shape the workforce for the future. One of the merits of data-driven HR strategy is to engage employees early on to get feedback and help management to make the right decision. HR transformation is an on-going process of actively making plans and taking actions.
These are awesome food for thought especially when we are all challenged by unprecedented changes. Should you require further information about the seminar discussion content or if you need any HR advice, please feel free to contact one of our specialist recruitment consultants.