Is COVID-19 stalling your career?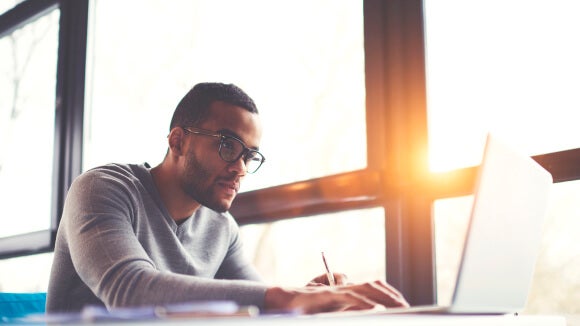 During this time of ambiguity and uncertainty, many professionals will begin to feel anxious about the long term impacts the coronavirus pandemic may have on their careers. While things may continue to feel this way for a while longer, there are some actions you can take today to gain some control of your career— both short term and long term. Here, we assess how COVID-19 may stall your career and what you can do to prepare for this.
You haven't got that promotion you deserve
There is no denying how disheartening it can feel to work hard and hit targets, only to be told you won't be getting a promotion or pay rise that you may have been anticipating.
However, during this unprecedented time, many are faced with this disruption to their career– either not receiving their promotion or a pay rise or bonus. When faced with this situation, it is helpful to take a step back and really reflect on why the promotion was important to you, what matters most about it and what was going to change most in relation to what you are doing right now.
Were you excited about the internal or external rewards? Was it the change in job title or change in reporting line, or the salary and change in the compensation that meant most to you? Or perhaps it was the type of work you would be doing and the opportunity to gain new experiences and challenges and maybe even get involved in new areas in the organisation. Reflecting on these factors will help you decide if you feel compelled to move externally at this point, or whether you're happy within the role at this time and to continue as you are with the plan to review this with your employer in 8 to 12 months' time.
Should you decide to stay (for many this may be the right choice to make in the current economic climate), if you like the organisation, enjoy the type of work you are doing as well as the people you work with and the team you're part of, then staying in your current position may be the right decision for you.
Staying can also allow a better work-life balance than moving right now. In a new role, you will be expected to build new relationships with new stakeholders whilst also learning new systems and processes remotely– all of which naturally takes time and concentration.
If you decide to stay in the role, it is important to set timescales (e.g. after 6 months) to contemplate on your situation. Ask yourself the following: where are you now in relation to where you were and how do you feel about your career development plan? Are you comfortable perhaps waiting another 6 months for that to develop or do you need to start looking externally? Are those changes and rewards more important and pressing to you right now?
Take the time to step back in order to reflect on how you feel in your current position versus waiting for the promotion.
You're uncertain of whether to move jobs
In the current economic climate, with no real end date to the uncertainty and economic instability, it may seem too risky to move jobs. However, we know that many professionals will not want to put their career on hold for the next few years, so we encourage professionals to be thorough and diligent in their research on future employers.
Any organisation looking to recruit at this time will have assessed the future of their business and will have a long-term plan in place for any new hires. When looking for a new role at this time, ask the hiring business or your recruitment consultant what the long-term prospects are and the career progression available.
Now more than ever, it is important to do some due diligence of the company you are thinking of joining. Look into the sector and industry and consider how they might have been impacted by an economic downturn, read the company accounts ahead of any interviews just so you are fully aware of the financial position of the organisation.
It is also important to stay mindful of the 'last in, first out' redundancy approach which companies often must take in times of uncertainty. That said, any job move comes with its risks and you should always evaluate the pros and cons regardless of the current pandemic. Thoroughly examine how the crisis has affected certain industries and take a sensible approach.
Finally, work with a trusting and reliable recruiter who will offer you sound advice on what steps to take at this time. A top recruiter will be keen to build a long-term relationship with you as they will see the value of your skill set and experience to the market.
Your job security is at risk
Whilst length of service is viewed favourably on a CV, in this current environment most employers would understand the rationale behind leaving a company sooner than anticipated if you feel your role is no longer safe.
Although moving roles too regularly is also discouraged, a job move would be encouraged if you're in an environment where you have genuine concerns about being let go. Depending on your circumstances, it could be seen as proactive and sensible to plan for that eventuality.
If you're concerned about job security because you joined recently and not because your company is in financial distress, then it might be worth talking to your manager who may be able to offer you reassurance that your job is still absolutely critical to the business.
You're at risk of redundancy
Seek support from your current organisation, whether that's helping you prepare and write your CV, getting it up to date, or developing your LinkedIn profile to get your skills and experiences across in the best possible way, or maybe even interview preparation. If you have been with your organisation for several years and have become accustomed to interviewing within that environment, make sure to avail of the support that is available to you at this time to help you prepare.
If there is an opportunity for short-term or interim work, this is also a great opportunity to offset the period of long-term unemployment, which can sometime take months, to help bridge the gap on your CV when you leave your current role.
It is also important to tap into your network of professional contacts, people that you may have worked with previously, or know through industry bodies, affiliations, or even university or college connections. These are all very useful contacts to have, particularly when you're preparing for a redundancy situation. Reaching out to those individuals creates awareness of your skill set being available to them, which they can then in turn share with their own organisations or networks.
Always stay in contact with your recruitment consultant once you feel that redundancy may be coming your way and make a plan with them in terms of what you want to look at within the market and take a proactive approach with them.
This is also a good opportunity to identify skills gaps on your CV. Take a look and identify areas where you think you could improve in or areas you've been meaning to upskill in. Take online courses or join an industry group that focuses on this area and use this time to put yourself in the strongest position to enhance your CV.
You've been placed on involuntary leave
Due to the economic impact of COVID-19, some employees have had no choice but to take an involuntary leave of absence from their organisations. Being placed on temporary leave or 'furloughed' can leave you feeling anxious of the future of your job. Although you are unable to complete any work with your current employer whilst on temporary leave, this doesn't mean that you need to stall your development and learning.
As with anything in the professional and working world, to stay ahead you need to be up to date on relevant skill sets. There is no denying that some industries have been more impacted by the pandemic than others such as travel and retail, which have had to let go of hundreds of employees as a result. Consider the extent to which your industry has been affected and take a rational look at what that may mean for your role within the organisation. With the societal changes that will follow the pandemic, skills in demand will also be changing. Take this period of prolonged rest to upskill and future proof your employability.
Be proactive during this time and research areas in high demand to upskill that will help you reach your career goals. Dedicating time and effort to enhance your employability and develop new skills will help shape your future career path.
For more hints and tips, visit the Career Advice.