Career progression with motivating purpose - June Tam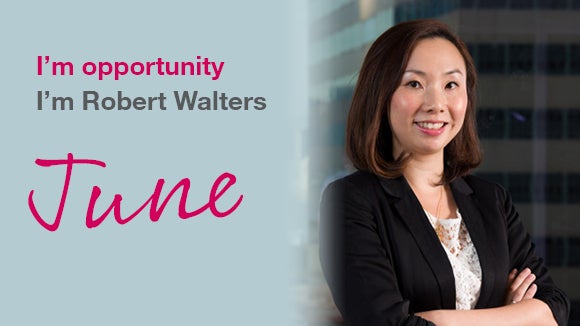 "I came to Robert Walters in 2010 as a candidate and that's when I was offered a consultant role on the IT contract desk. Before joining Robert Walters, I worked for two large technology companies doing presales support. During this time I dealt with lots of different business units, including project management and helpdesk, so I learnt how to work with technology professionals.
I decided to step out of my comfort zone and take on the new challenge and, to be honest, it was life-changing for me. In my previous roles I'd been working with junior operational staff and when I stepped into recruitment I was interacting with senior candidates and clients. It really broadened my horizons. In 2012, after returning from maternity leave, I was promoted to manager and then, last year, I was promoted to senior manager. This clear career progression is one of the reasons people stay with the Group – it's very transparent and you know what you need to do to get to the next level. I've also received a lot of support from my managers – they've developed me and given me autonomy to try new things. They've believed in my ability to take on more.
I'm proud to look back and see the impact I've had on people's careers and lives.
I'm really motivated by being a role model for my team. They are ambitious and I want to show them that they can keep progressing their careers. I also enjoy seeing the growth in my candidates. Often I'll place a candidate and a couple of years later they become my client. The feeling that I've contributed to someone's career progression gives purpose to my role and, for that matter, the wider Group."