From intern to senior consultant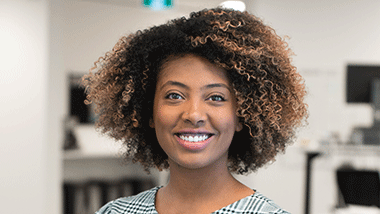 Feven got her start with Robert Walters in 2016, joining the group's London headquarters as an intern. Now a senior consultant in our Toronto office, Feven shares how her recruitment career has progressed, her biggest achievement so far and what she finds most rewarding about her job.
"I was considering whether to go back to school when I decided to gain some work experience in 2016. I applied for an international study work programme and was offered the opportunity to intern at Robert Walters London. I was excited by the prospect of working for a global company with a dynamic culture.
"I knew that Robert Walters was where I wanted to be after my first interview."
There were several companies I had the opportunity to intern with, but I knew that Robert Walters was where I wanted to be after my first interview. During my internship, I researched roles and candidates and shadowed consultants in the financial services operations team. The experience sparked my interest in recruitment and set the foundation for my career.
I wanted to stay with the Group, so, before I finished my internship, I was put in contact with the managing director of our Canadian business. I was offered an exciting opportunity to join as a recruitment consultant specialising in the financial services sector in my hometown of Toronto.
The opportunities have continued to come. Within a year of moving home, I was promoted to senior consultant and I qualified for the Group's global incentive weekend for top achievers. The Canadian business is small but growing fast. It's a very network-driven market, but the skills and experience I gained in London equipped me to establish those all-important relationships. It's been really rewarding to build credibility in Toronto's tight-knit business community.
What started as an internship has grown into a rewarding career with long-term opportunities. The support I've received in London and Toronto encouraged me to keep pushing my career forward, and I don't plan to stop now. I'm excited to see what's next!"
Interested in a career in recruitment? Please send an up-to-date resume to Liz Boston at liz.boston@robertwalters.co or call +1 415 815 3797.