From engineering graduate to recruitment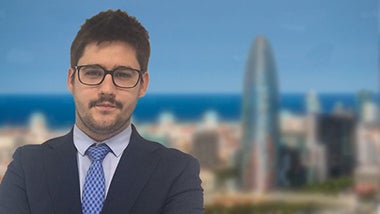 Alex Argemí started his career with Robert Walters when he joined our Barcelona office in 2016 as an engineering recruitment consultant. He has since been promoted to senior engineering consultant. He discusses why he chose a career in recruitment over engineering and the benefits of working for Robert Walters.

Why did you make the move into recruitment?
I've always had an interest in engineering and wanted a career in the sector from a young age. After obtaining my degree in mechanical engineering, I decided to continue my studies and took a Master's degree in industrial engineering. Through this course, I gained some exposure to the commercial side of the engineering sector and to project management. I really enjoyed building strong relationships with my university team and working together to achieve an end-goal. It was at this point that I realised how much I enjoyed working with people and that I wanted to pursue a commercial career where I'd be able to build great relationships with a diverse range of engineering professionals.

I was excited to join Robert Walters as a consultant because it would give me the opportunity to gain a global vision of how companies operate in the industrial sector, without leaving behind the technical knowledge and skills that I'd developed through my university studies.
What has been your biggest achievement to date?
I joined Robert Walters just under two years ago, and in that short time I've had the opportunity to build a new automotive division within the Barcelona office. It's an interesting sector to work in and it's been incredibly rewarding to build a client base from scratch. My goal is to continue developing this sector by expanding my team of dedicated consultants.
Tell us about the automotive sector in Spain
The automotive sector is a growing market, particularly in Catalonia, so it's an exciting time to get involved. We have several important Original Equipment Manufacturers (OEMs), such as SEAT, Ford and Nissan as well as a number of tier one suppliers present in the market. However, despite being a pioneering industry in Spain, the sector is very much led by the German market. As a result, candidates with fluency in German are highly sought after. My department focuses on mid-senior level roles, so finding candidates with the strong strategic and language skills clients are looking for can be a challenge. Therefore, it's vital for me to build solid relationships with engineering candidates to ensure I have a pipeline of talent for my clients.
Why would you encourage an engineer to switch to recruitment?

Working as an engineering recruiter is a fantastic way to gain a holistic view of the engineering sector. I regularly meet my clients on-site, so I'm continuously developing my knowledge of different production processes. In addition, having an engineering background has really helped build my credibility with clients and made it easier to develop strong relationships with a range of professionals in the sector. If you're an engineer looking to move into a more commercial role, a career in recruitment offers a great opportunity for you to leverage your technical knowledge and really add value to your clients.
What is the best thing about working at Robert Walters?
For me, the positive work environment is one of the things I value most about working for Robert Walters. It's really satisfying to work with a team of professionals who are aligned in their dedication and approach. In the Barcelona office, we go by the motto 'One team, one dream', which really summarises the collaborative nature of the Robert Walters culture. Everyone in the office is always willing to help out and sharing knowledge is a key element of our work. As a result, you can learn a lot in a short time.

Interested in a career with us? Send your up to date CV to maria.diaz@robertwalters.com.