Robert Walters ACC Membership Program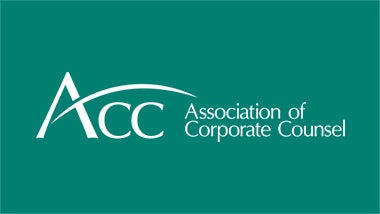 Robert Walters has partnered with the ACC to support in-house practitioners with their ongoing career development.
Lawyers who are placed in an in-house role through Robert Walters, are eligible to receive a complimentary six-month ACC membership.
To activate your membership email Aude Bernardi at Robert Walters.

About your ACC Membership
The ACC provides the exclusive resources you need as in-house counsel.
The membership includes access to all of the ACC's most popular benefits, including:
Research: Benchmarking to help you remain knowledgeable about the most recent trends in the legal profession.
Resource Library: Thousands of sample forms, best practices, and infoPAKs on key topics relating to in-house lawyers and their work.
ACC Docket: Industry magazine written by in-house counsel, for in-house counsel, the ACC Docket shows you how to succeed in-house.
Chapters: Networking and educational opportunities are available through the ACC's network of chapters across the globe.
Online Education: Substantive information on legal and management topics relevant to in-house counsel, all from the comfort of your office. (Free to participate; Fee to receive CLE/CPD)
Members will have access to a webcast series developed specifically for lawyers who are new to in-house. The series will demonstrate how to save valuable time and money focusing on three key themes: Resources, Education and Networks/Connections.
About the ACC
The Association of Corporate Counsel (ACC) is a global bar association that promotes the common professional and business interests of in-house counsel who work for corporations, associations and other organisations through information, education, networking opportunities and advocacy initiatives.

They anticipate and understand the needs of the in-house bar; help members deliver services to their corporate clients efficiently; promote the value of in-house services; influence the practice of law as it affects the in-house bar; and deliver a mix of relevant, timely services including information, education, networking and advocacy.

With more than 40,000 members employed by over 10,000 organizations in 85 countries, the ACC connects its members to each other and to the people and resources necessary for their personal and professional growth.
The Robert Walters ACC Program is for lawyers/attorneys who are placed in an in-house role by Robert Walters. ACC members are not eligible for the complimentary six-month membership through the program.
If you have been placed by Robert Walters since 1 January 2017, please contact Aude Bernardi to access your six-month complimentary ACC membership.